Its that time of year again.... Christmas movie-a-thons, holiday gatherings, Families getting together over the holidays. Baking lots and lots of baked goods with cheer!! Its the most wonderful time of the year.....
Hope everyone had a great and safe holiday and Santa was good to everyone!!

Next I just want to apologize for being soooo behind on my blogging. The holidays sure take a toll on everyone.Ok. So here's a touching story I wanted to share with everyone.

As some of you know earlier this year I signed up with this program call Operation Love ReUnited. Its such an awesome program for photographers + military families to be part of.
So before Christmas I got an email for a young gal named Nikki. Here's a lil part of her email to me....

Hi
I do not even know where to start...First of all, thank you for being a part of such a wonderful operation. I love that site and think it is a wonderful thing to be a part of. Families often do not get enough pictures captured of those important moments and I was very excited to see something like that. Thank you very much, I really appreciate the entire website and details.

My husband left in March of this year, our son was 2 1/2 weeks old. That was one of the hardest moments of my life. Especially when they were letting another member of his unit stay a few extra weeks behind because him and his wife had a baby girl two days after we did and my husband had to leave with everyone else. But that is over with and we are trying to get through this time and anxiously await June when he will be home. So much has happened in our son, Kristjan, is growing up so fast and I hate that his Daddy is not here to see him. Not because he is in jail, not because he doesn't want to be a part of his life, simply because his job called him away. I think that is the hardest part about it. He wanted nothing more than to stay home with his family, to see his little boy. Its very hard. This is the second deployment he has been in. The first being to Afghanistan for a year. This time is a lot harder not only because of the length but because of all that has changed. But I am up here in CT receiving the support of our families which is better than being alone in our home in NC.........

My heart just melted after reading her emails and feeling her pain of not having Lucas in such an important time in thier lives. We went back and forth emailing and planning our session together, and we finally got together. Kristjan was a lil ham to work with. Crawling, playing around, and dancing for me!!
Nikki- thank you for having me over to capture some moments of Kristjan to send over to Lucas! You hang in there girl. You are surrounded by family and friends who will always be there for you. Im sure your counting the months down to finally see Lucas home safe. This is going to be the best gift he will get from you!! Nikki and I are going to be send over a custom book of these images to send over to Lucas in Iraq.
God bless all of our troops and bring them all home safely.

Click here to view the slide show!!



Love these 2 shots. Typical child digging through the shelves, pulling anything they can get their hands on.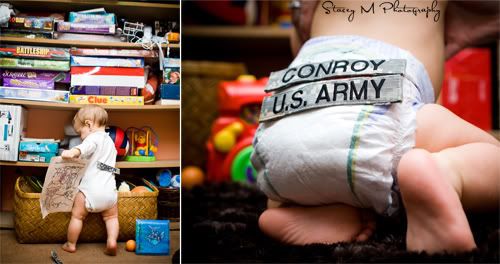 "Can't wait to see you Daddy! Miss and Love you lots!! Stay safe!-Kristjan